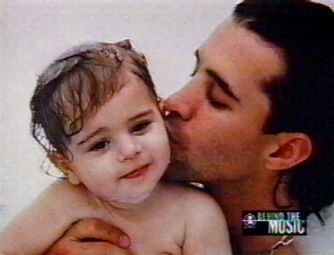 The song 'With Arms Wide Open' was written by Scott Stapp when he learned he was going to become a father. Just a little while after being with ex-wife, Hillaree, she broke the news to Scott. Scott sang the song to Hillaree's stomach during her pregnancy, and inside the delivery room where Scott's son, Jagger Michael Stapp, was born. Scott found the name 'Jagger' in a baby book. It means one who carries a message. Jagger was born on October 21, 1998.
The With Arms Wide Open Foundation, founded by Scott Stapp, is a foundation that supports the well being of children and helps form stronger bonds between children and their parents. To learn more about it, go here:
http://witharmswideopen.org
The WITH ARMS WIDE OPEN FOUNDATION consists of:
Scott Stapp (President)
Jeff Hanson (Vice President)
Rob McNeely, ESQ.
Secretary, Treasurer, General Counsel (Tallahassee)

Ken Fermaglich
Promotions Director (New York City)
Cynthia A. McNeely, ESQ
Executive Director (Tallahassee)
Elayne Anible
Administrative Assistant (Tallahassee)
AMBASSADORS
Mark Tremonti (Orlando)
Scott Phillips (Orlando)