+Name: Jeffery Nero Hardy
+Birthday: August 31, 1977
+Height: 6'1"
+Weight: 212 pounds
+Hair color: Originally blonde, but varies from week to week.
+Eye Color: Greenish
+Hometown: Cameron, NC
+Career Highlights: WWF Tag Team Champion

+Favorite Band/Singer: Pearl Jam
+Biggest thrill in life: Signing with the World Wrestling Federation.
+Person he would most like to meet: Marilyn Manson
+Favorite Sport(Besides Wrestling): Motorcross
+Favorite Athlete: Jeremy McGrath
+Favorite Television Program: RAW
+Hobbies: Jamming on Motorcycles
+Favorite Food: Lasagna
+Favorite Fast Food: Big Mac
+Favorite Actor: Jack Nicholson
+Favorite Actress: Jennifer Love Hewitt
+Favorite Movie: Powder and Titanic
+Secret Talent: Acting
+Best Advice: The extreme always makes and impression.
+Favorite Video game: Tetris
+Favorite Cartoon Character: Scooby Doo and Tigger
JEFF'S STORY
As one of the most popular and young superstars in the WWF today, Jeff Hardy has come a very long way since he began his career, growing up in Cameron North Carolina. He is called by many the high-flying daredevil of the WWF.

Only in his early 20's, he began his wrestling career while growing up in North Carolina. He and his brother, Matt Hardy, worked the independent circuit, and made wrestling attire for themselves and others to help support themselves while they trained in the ring. Finally, the two were invited to the WWF's training camp, and worked several federation events. While everyone was impressed with the young duo, they were offered a full-time contract in 1998 which they accepted.

Their first gimmick, or persona, didn't go over well with the fans. They wore brightly colored attire, and usually could not compete with the larger tag-teams. Soon, they joined Michael Hayes, who became their manager. He not only gave them different attitudes, he changed their look into a darker, edgier style. His alliance with the brothers definately brought about a positive change when they won the WWF tag-team titles, but soon after they became annoyed of Haye's eagerness to control them..and joined Gangrel in the formation of the New Brood.

With Gangrel by their side, Matt and Jeff entered into a feud with Edge and Christian. With their aerial-like moves and ability in the ring, the Hardyz became an instant hit with the fans, always breath-taking to watch. Come mid-1999 ,Terri Runnels offered both teams a chance at $100,000, as well as her management services. In what was def. one of the "match of the year" candidates in '99, the two teams clashed at the No Mercy PPV in a tag ladder match. The Hardyz won the 'bout, taking the money as well as Terri, and leaving Gangrel behind. However, her need for constant attention was too much for the Hardyz to suffice. As a result, she cost the Hardyz a shot at possibly becoming tag team champs after a number one contendership shot at No Way Out. After that incident, the Hardyz went without a manager for a while.

Lita is the Hardyz most recent manager (real name Amy Dumas). She debuted with her "Lita" gimmick accompaning Mexican star Essa Rios to the ring. However after costing Essa too many matches he turned on her , only for the Hardyz to rescue her and expand her ever-growing wrestling skills. The three of the are not known as the Xtreme Team and are amazing audiences across North America.

Today, both Matt and Jeff Hardy are known as top performers in the WWF. Jeff is known for his finishing maneuver, the "Swanton Bomb" which drives the crowd wild. Already having established themselves as top contenders for the tag belts, there is only more that awaits them in the future. Being known as one of the most talented duos in the whole federation, both Matt and Jeff have proved time and time again they can compete in the singles division as well. Jeff is the youngest of the two brothers, and shines out at one of the younger, primary stars in the World Wrestling Federation. He has unlimited potential, and continues to entertain the fans wherever he may go.
(CREDIT: www.jeffnerohardy.com)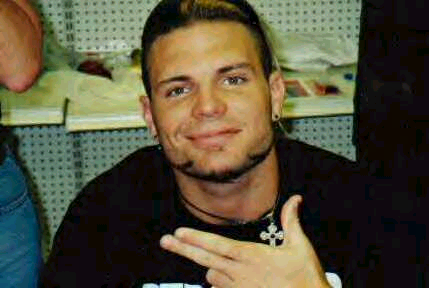 Ahhhhhh *Droolz* :)