FULL NAME: Matthew Moore Hardy
BIRTHDATE:September 23, 1974
HEIGHT: 6'1"
WEIGHT: 220 lbs.
HAIR COLOR:Brown
EYE COLOR:Brown
HOMETOWN: Cameron, NC
CAREER HIGHLIGHTS: Tag Team Champ(5) with his brother Jeff, Hardcore Champ(1), European Champ (1), WCW Tag Team Champ (1) w/ Jeff.
FINISHING MOVE: Twist Of Fate
FAVORITE BAND: Pearl Jam
FAVORITE PLACE IN NC : Carowinds Theme Park
BIGGEST THRILL IN LIFE:Working full time for the WWF
PERSON YOU WOULD MOST LIKE TO MEET: Eddie Vedder (Pearl Jam singer)
FAVORITE SPORT (BESIDES WRESTLING: Football
FAVORITE ATHLETES: Shawn Michaels and Michael Jordan
FAVORITE TV SHOW: The only show I watch is Raw is War
HOBBIES: Putt-Putt golf and watching old wrestling tapes
FAVORITE FOOD: Grilled chicken breast, baked potato and salad
FAVORITE FAST FOOD: Big Mac
FAVORITE ACTOR: Christian Slater
FAVORITE ACTRESS: Sara Michelle Gellar
FAVORITE MOVIES: Heathers, Powder and the Crow
IF I COULD HAVE DONE THINGS DIFFERENTLY I WOULD HAVE: tried just a little bit harder
SECRET TALENT: Sewing and reading people
BEST ADVICE EVER RECEIVED: You don't stay the same. If you're not getting better, you're getting worse
FAVORITE CARTOON CHARACTER: Spiderman
FAVORITE VIDEO GAME: Street Fighter

MATT'S STORY

The Hardy Boyz forever inscribed their names in the annals of World Wrestling Federation History with their breathtaking performance in the Ladder Match at 1999 No Mercy Pay-Per-View, when they defeated Edge and Christian to win the finals of the Terry Invitational Tournament. At a tag team, Matt and Jeff Hardy undoubtedly will go down as the most breathtaking combination in Federation history. However, it's their talent as individuals that have bonded the brothers into such a cohesive unit.

Growing up, both Matt and Jeff were fans of the legendary Fabulous Freebirds. Shortly after Matt, and offensive linemen, a tightend and defensive end for Cameron N.C.'s Union Pines High School, began his Federation career in 1997 as a single competetor. Soon thereafter, he and Jeff aligned themselves with Michael Hayes. It was under the tutelage of the former Freebird that the Hardyz upset the Acolytes to Capture their first Tag Team Championship on June 29, 1999 - in Fayetteville, N.C., about an hour of hometown Cameron.

Though Matt and Jeff are four-times Federation Tag Team Champions, Matt has enjoyed some success as a single competitor. On April 24, 2000, The Hardys' Carolina magic worked again as Matt upset Crash Holly to win the Hardcore Championship in Raleigh, N.C.

As dynamic and hardcore Matt has proven to be in the ring, he is very intelligent outside the ring, as well. If not for a career in the World Wrestling Federation, Matt says he'd resume his pursuit of a degree in engeneering. Whether he's competing in a classic ladder match with his brother Jeff, battling in a hardcore match, or aspiring to build a 100-story building, Matt Hardy approaches each challenge with the same heart and desire which has gotten him to where he is today.
(CREDIT: www.matthewmoorehardy.com)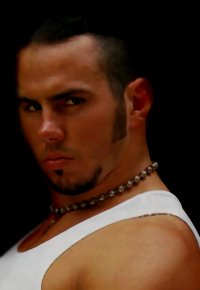 *Grins Devilishly* >:)